LAST UPDATED:
January 24, 2022, 1:19:37 PM
1. SUMMARY
The WORKSPACE (or WS) function allows users to set up, configure, and save their favourite arrangements of Panes for quick recall or reuse. It is most commonly used to build dashboards made up of several view Panes. Since there are a large number of functions that display output in a Pane, and only limited space on a monitor, users may choose to use Workspaces to perfect their favourite arrangements of specific displayed information, which can then be closed or opened at any time, greatly improving the speed of access to commonly used functions or data. An arbitrary number of Workspaces can be created or deleted, each one capable of displaying multiple Panes updating in real time.
4. USAGE
WORKSPACE (or its mnemonic WS) is commonly used without subfunctions to view a list of all existing Workspaces. The subfunction NEW and EDIT are used to create and edit a specific Workspace. The subfunction LOAD is used to call up a specific Workspace. The subfunctions CLEAR and DELETE can be used to clear the content of a Workspace or to permanently delete the specified Workspace entirely.
This command will list all existing Workspaces.

Here you can see a table of Workspaces. You can view the Name, Description alongside the date and time when it was Created and Last Modified.
From the default Workspace Pane, there is an option to edit or delete a Workspace using the buttons on the right hand side. This can also be done using the .EDIT or.DELETE subfunctions.
NEW subfunction
The NEW subfunction creates a new Workspace. When you first log into Vektor there will be a Workspace called 'UNTITLED' ready for you to use. You can create additional Workspaces using the NEW subfunction.
WORKSPACE.NEW(EXAMPLE_WORKSPACE)
This will create a new Workspace titled EXAMPLE_WORKSPACE.

When you create a new Workspace, the active Workspace will automatically switch to the new Workspace.
You can check which Workspace you are actively working on in the bottom left corner of your browser window at any time.

The current Workspace in use is listed at the bottom left corner of your browser.
EDIT subfunction
The EDIT subfunction opens up the EDIT Modal for a Workspace. The EDIT Modal allows you to rename, add a description or delete a Workspace.
WORKSPACE.EDIT(EXAMPLE_WORKSPACE)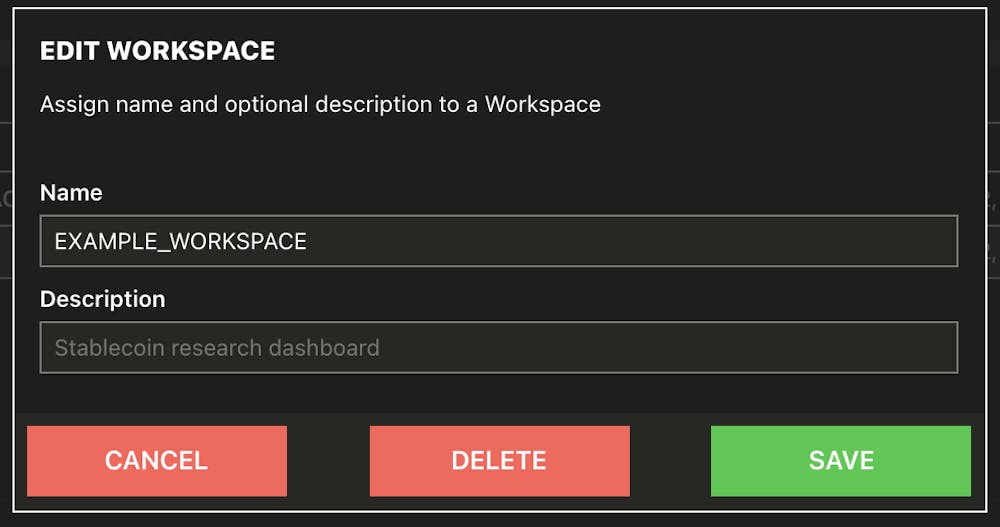 Using WORKSPACE.EDIT without providing an existing portfolio name as an argument will open the Function Form. The Function Form will help you to construct your command ready for execution.
LOAD subfunction
The LOAD subfunction will load the specified Workspace on your open browser.
WORKSPACE.LOAD(EXAMPLE_DEFI_WORKSPACE)
This command will load EXAMPLE_DEFI_WORKSPACE on the user's screen.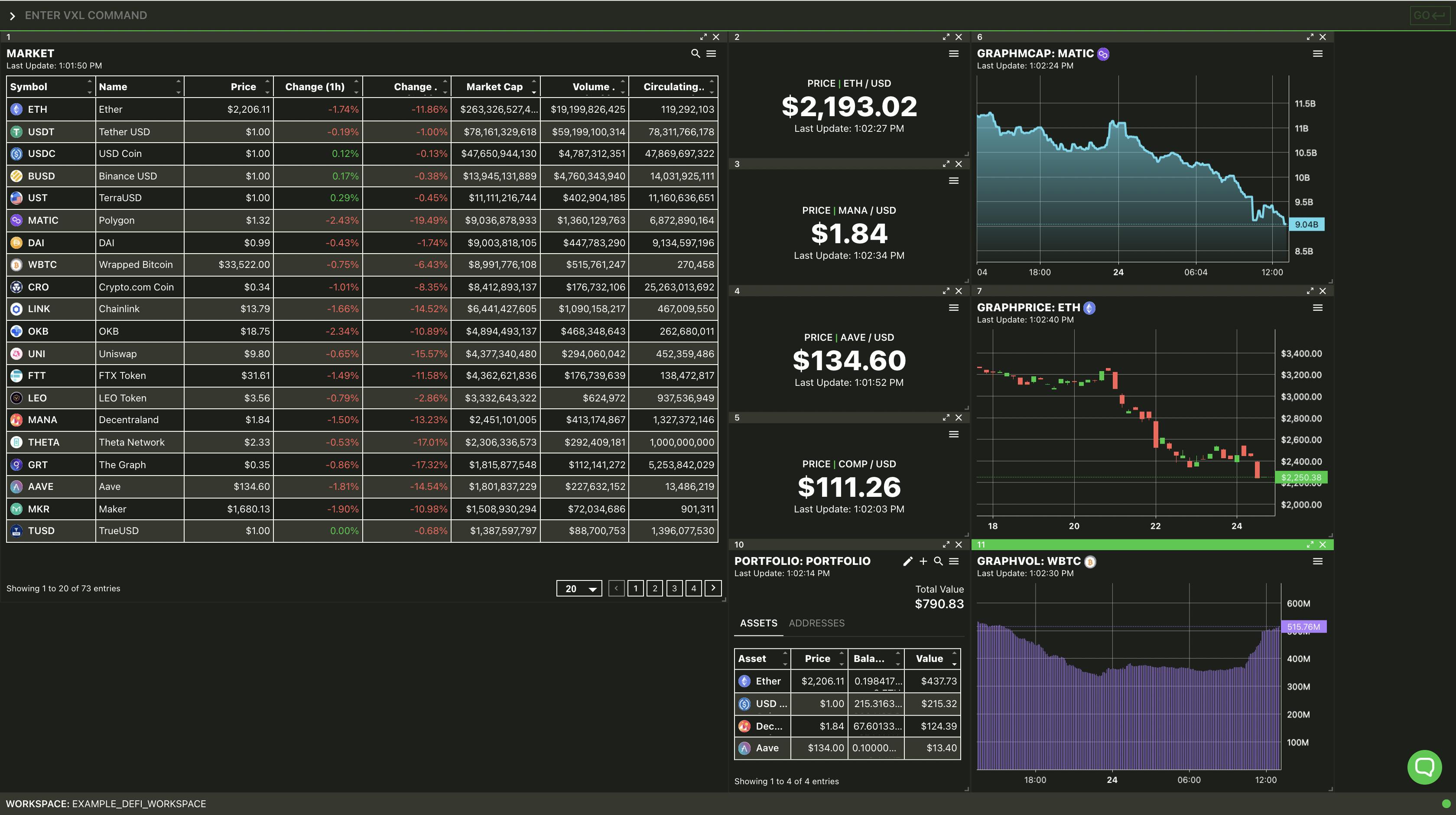 The LOAD subfunction can only be used to LOAD existing Workspaces created by the user. You can create new Workspaces using the NEW subfunction.
DELETE subfunction
The DELETE subfunction is used to permanently delete the specified Workspace.
WORKSPACE.DELETE(EXAMPLE_WORKSPACE)
This command will delete the Workspace titled 'EXAMPLE_WORKSPACE' and open an updated Pane listing existing Workspaces.

CLEAR subfunction
The CLEAR subfunction is used to clear the specified Workspace of all Panes.
WORKSPACE.CLEAR(EXAMPLE_DEFI_WORKSPACE)
This command will clear the Workspace titled EXAMPLE_DEFI_WORKSPACE and give the user a blank Workspace to start building on.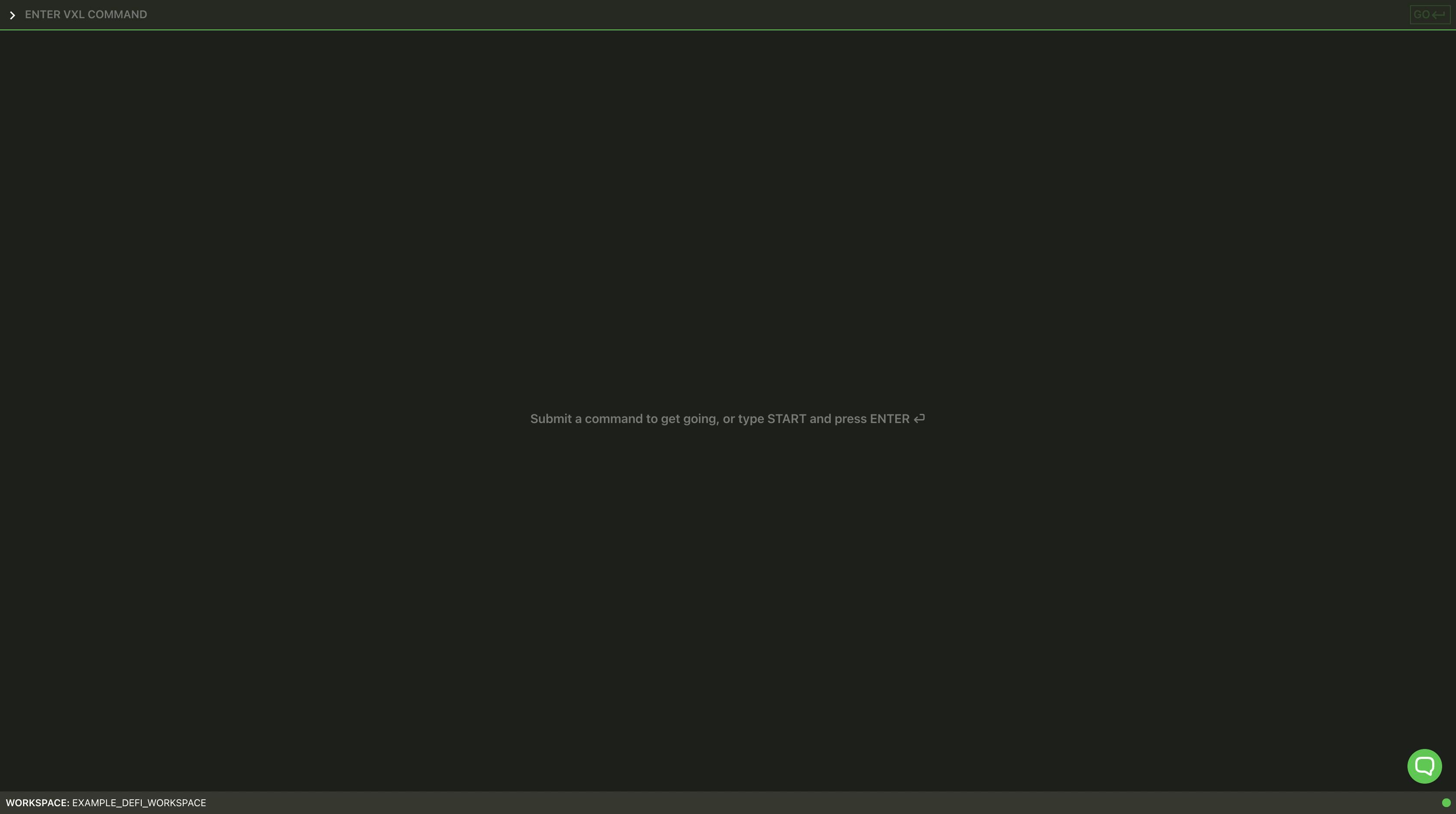 If the CLEAR subfunction is not submitted to the command line with a specific Workspace identified as an argument, it will clear the current active Workspace.